Has the normalcy before March 2020 become a thing of the past or are we just a few vaccines away from restoring it? Truth be told, the second wave of COVID-19 has been more deadly than the previous one both in terms of the number of infections and accepting the gravity of the situation that we have come to.
While Tamil Nadu grappled with the situation as cases mounted above 35K, we are now on the better side of the curve with the daily number of positive cases below 5000 of which Chennai accounts for less than 300 cases every day.
One of the main reasons for this steep decline is the meticulous vaccination drives that are being carried out throughout the state. Chennai, in particular, has 45 vaccination centres and 19 urban community health centres rolling out vaccines to the public on a daily basis. While vaccinations at government health centres are free for all, private hospitals like Apollo, Gleneagles Global Hospital, Kauvery Hospital, MGM, etc are now administering Covishield @ Rs. 750/per dose while Covaxin is priced at Rs.1200 for a single dosage.
For a wider reach, The Greater Chennai Corporation (GCC) has also been conducting free vaccine drives in markets and other crowded public places as part of its outreach programme.
While initially there was hesitation among many to take the jab, awareness programs and celebrity endorsements have created a positive shift in attitude with more people willingly taking the vaccine.
So, if you are above the age of 18 and are yet to receive your first dose of COVID vaccination, we urge you to get your vaccine shot and post a 'vaxxie' on your social media handles as well (It is a thing!) Let's also take it upon us to educate and spread vaccine awareness just so that we live in a post COVID world soon?
Registration On CoWIN & Arogya Setu App
The Government of India launched the CoWIN website for the citizens early this year. Though the registration and booking process by itself is pretty simple, we suggest that you have a fast network connection while at it as the slots are fully booked in a matter of seconds, as and when they become available.
1. A Step-By-Step Manual For Registration:
Image Source: google play store
Enter your mobile number, the OTP that you receive on your mobile number and click verify.
If you are registering using the Aarogya Setu app, click on the CoWIN tab, tap on 'Vaccination' and then proceed.
A registration page will appear where you will need to input your photo ID details.
Once you are done with the registration process, you will be able to book slots for upto 4 people, click on the 'Add Button' and enter the details of the other individuals, to register for them as well.
2. Booking A Vaccine Slot:
After successfully registering yourself, you will see a column named "Action" in front of your name. Choose the calendar icon below it to schedule an appointment.
On the "Book Appointment For Vaccination" page, you will be asked to enter details like state, pin code, etc, post which a list of vaccination centres will appear depending on your location.
If you notice that there are slots for a couple of days, choosing a slot for the next week will increase your chances of getting a confirmed appointment.
Once the booking is done, you can download and save the confirmation of the vaccination details.
For Chennaites, the newly launched online portal is an added advantage
A week ago, the GCC launched its online portal to help Chennaites improve their chances of receiving the jab. The portal gccvaccine.in has received an overwhelming response and thankfully increases the chances of quickly receiving a confirmed slot as well.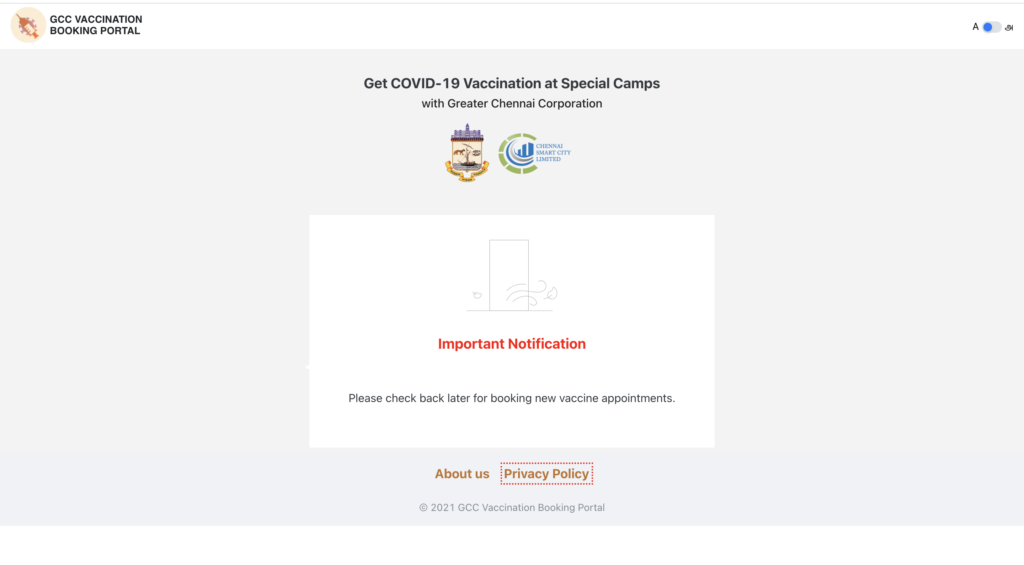 Image Source: gccvaccine
Note: Unlike the CoWIN Portal where you can book slots a couple of days earlier, the GCC Portal displays slots only a day in advance (12 noon to 2 p.m.), once the Corporation receives confirmation on the number of slots.
Alternatively, you may also call 044-46122300 or WhatsApp on 9499933644, to book your vaccination appointment.