Lights, camera and action! It's showtime on Netflix. Guess what's streaming? A masterpiece of an anthology we all have been waiting for – Navarasa.
Created by legendary filmmakers Mani Ratnam and Jayendra Panchapakesan who are collaborating with famous directors to weave magic on screens through 9 independent stories depicting 9 kinds of rasas or emotions (Navarasa).
The much-talked about series is an amalgamation of the industry's most celebrated directors, writers, cinematographers, actors and composers. Let's get to know the 'whos', 'hows' and 'whats' of this magnum opus of a series before it starts streaming.
1.Edhiri (Karuna – Compassion)
From the Megamind of anthology movies creators like David and Solo, Bejoy Nambiar narrates a spellbinding emotion of compassion through the eyes of extremely talented artists Revathy, Prakash Raj and Vijay Sethupathi. Lending magical melodies to Edhiri is music composer Govind Vasantha and the serene Chinmayi Sripada whose song 'Yaadho' has already struck all our hearts.
Image Source: Instagram
2.Guitar Kambi Mele Nindru (Shringaara – Romance)
Arguably the most awaited story has to be the reunion of Surya and Gautham Vasudev Menon. After successful cults like Kaakha Kaakha and Varanam Aayiram, this is the third collaboration between the two portraying a romantic story that features Prayaga Martin alongside Suriya. Visual cinematography is by PC Sreeram and music is composed by Karthik who has already set the bar high with hits like Thooriga and Alai Alaiyaaga.
Image Source: Instagram
3.Thunintha Pin (Veera – Valour)
This one packs the punch of a stellar ensemble of Atharva, Anjali and Kishore narrating the emotion of courage directed by the talented Sarjun KM of Lakshmi fame. Music director Sundaramurthy KS recently mesmerized us all with a melancholic track 'The Bleeding Heart (Osara Parandhu Vaa)' which has been generating rave reviews ever since its launch. A rollercoaster ride of performances is about to capture your eyes in this segment.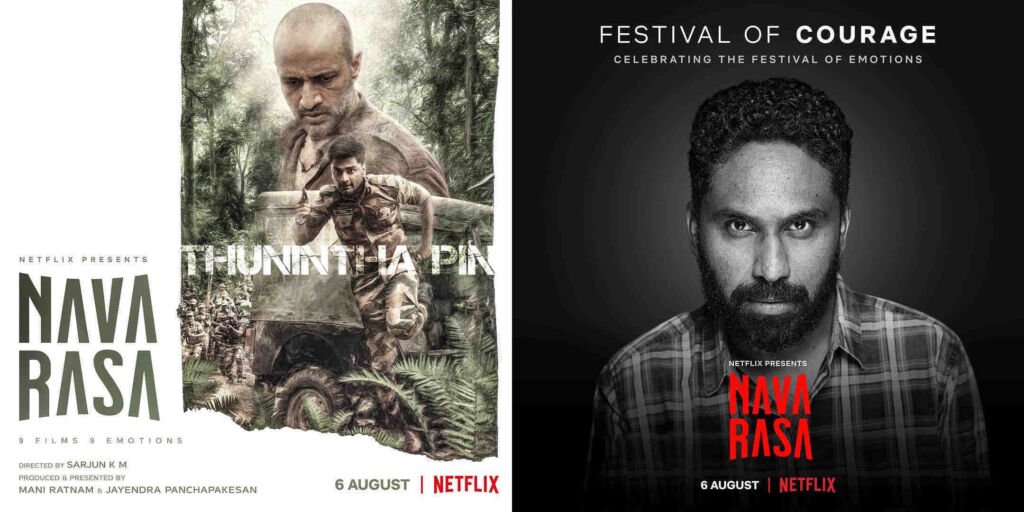 Image Source: Instagram
4.Summer of '92 (Haasya – Laughter)
Priyadarshan has been synonymous with comical stories not only in Kollywood but Bollywood as well. The director himself needs no intro here. This segment comprises the hilarious cast of comedian Yogi Babu, Nedumudi Venu and Remya Nambeesan in the lead roles. Inspired by true events, the story explores the emotions of Laughter and Joy. Music is composed by Rajesh Murugesan.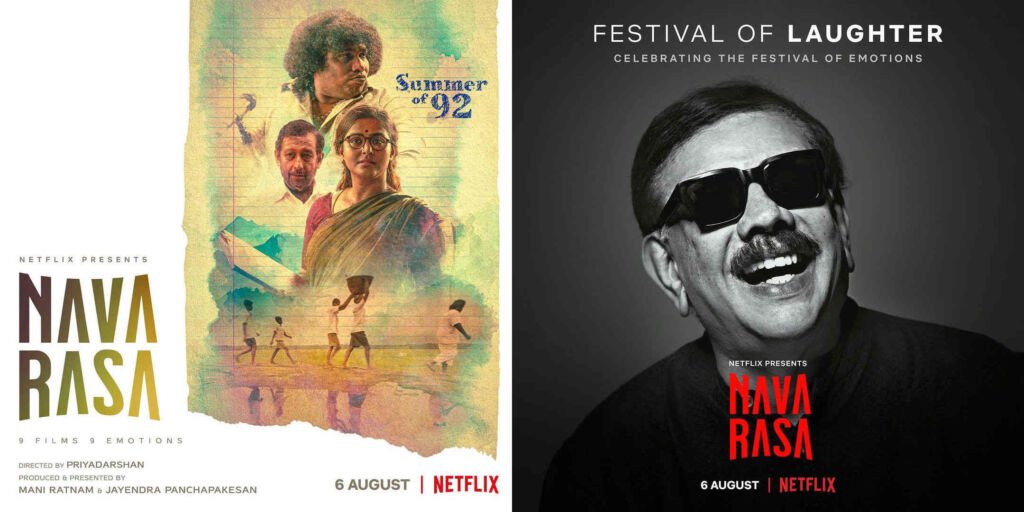 Image Source: Instagram
5.Project Agni (Adbhutha – Wonder)
Exploring the emotion of wonder, Karthick Naren who recently directed Mafia: Chapter 1 delights us with a short sci-fi drama that could be the most innovative story in depicting this rasa. The segment comprises marvelous actors like Arvind Swamy and Prasanna who are ground-breaking in their own league. Music is composed by Ron Ethan Yohann who has been previously acclaimed for his score in Maya.
Image Source: Instagram
6.Peace (Shaantha – Peace)
After the roaring success of Jagame Thanthiram, the multi-talented Kartik Subbaraj is back again on Netflix with Navarasa. His narrative depicts the emotion of peace and is based on LTTE which kind of seems to be the Director's newfound interest. Consisting of Bobby Simha, Gautam Vasudev Menon in pivotal roles alongside Master Tharun and Sananth, the music maestro here is Santhosh Narayan.
Image Source: Instagram
7.Payasam (Bibhatsa – Disgust)
Critically acclaimed director Vasanth impacts his storyline based on the negative emotion of Disgust. The enticing segment of Navarasa consists of Aditi Balan famous for her widely acclaimed sociopolitical film – Aruvi alongside actors Rohini and Delhi Ganesh. Lending magic to the music of the story is Justin Prabhakaran whose Kannunjal has become a melodic treat for all music lovers.
Image Source: Instagram
8.Roudhram (Raudra – Anger)
Marking the debut of Arvind Swamy as a director, Roudhram is based on the emotion of anger. Swamy is also the actor(Project Agni) and director of this magnificent anthology segment. Riythvika, Sree Raam, Abhinayashree, Ramesh Thilak and Geetha Kailasam are all set to star in this emotional story. All praise for the legendary music composer AR Rahman who dazzles us not only in this segment but also with the Navarasa Title Theme.
Image Source: Instagram
9.Inmai (Bhayaanaka – Fear)
Two of the finest actors in the industry today Siddharth and Parvathy Thiruvothu come together in this stellar narrative to depict the emotion of fear. Directed by Rathindran R. Prasad this emotion is set to be a deep dive psychological thriller that will have audiences racking their brains for a long time. Famous Bollywood music director, Vishal Bharadwaj is said to be the composer of this nerve-wracking segment.
Image Source: Instagram
A celebration of the finest performances in the industry is yet to stream on August 6. Mark your date and keep your popcorn ready to share your FDFS reviews with us. To watch more amazing content, check out our latest blog on binge-worthy OTT Originals.